If you're struggling for inspiration, have more cheese than you can handle or need a good excuse to break your new diet; we've got the recipe answers for you!
Our first recipe is a simple vegetarian dish: Spinach and Stilton Pasta.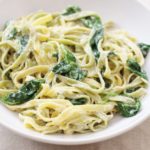 Cook pasta according to packet. Steam 500g spinach for 5-10 minutes. Sauté an onion with crushed garlic then add one tablespoon of flour. Gradually add 450ml milk and stir until thickened. Then crumble 100g of Mature Blue Stilton into the sauce and stir in the spinach. Once the cheese has melted, drain the pasta and mix the sauce in.
You can purchase our Mature Stilton through the website by clicking here, or alternatively it is also available in Tesco, Co-op, Waitrose and M&S in varying sizes.
Next is one for those who love heat: Flaming hot Pinto Bean and cheese taco's.
In a small microwave-proof bowl, combine pinto beans, hot salsa and a handful of grated Flaming Pepper. Microwave on high for 1 minute 30 seconds. Divide the mixture between 4 taco shells and top with bite-size pieces of lettuce, hot salsa and more grated Flaming Pepper.
Flaming Pepper is available to buy in selected Waitrose stores that feature a cheese counter.
Now something quick for your lunch: Roast beef and herb & garlic roll ups.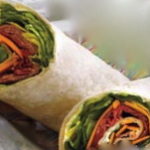 Combine 4 ounces of cream cheese and 2 tablespoons of horseradish in a small bowl. Spread this mixture evenly between 4 wraps. Layer each wrap with lettuce, roast beef and slices of Herb & Garlic WhirlTM then roll and serve.
Our Herb & Garlic WhirlTM is available in selected Tesco stores that feature a cheese counter.
For a cheesy twist on a fish classic: Rutland Red Fish cakes.
Poach the fish in milk and add some leek rings to soften. Once softened, flake the fish ensuring to remove any bones. Then mix in mashed potatoes, the remaining leek and two handfuls of grated Thomas Hoe Rutland Red. Divide the mixture into equal parts to shape, and put in a medium-hot oven until they crisp up.
Rutland Red can be purchased through our website here or Claxstone Leicestershire Red is available at selected Sainsburys stores that feature a cheese counter.
And a tasty dessert recipe to finish: Apricot bread and butter pudding.

Cut up 8 large slices of white bread into triangles, removing the crusts. Brush some melted butter inside a large oven-proof dish then cover the base with a layer of bread pieces. Mix 50g granulated sugar, 100g sultanas and 140g crumbled White Stilton with Apricots together. Sprinkle a layer of this mix on top of the bread then cover with another layer of bread. Continue this layering process until you run out, ensuring the top layer is bread. Beat 2 eggs and 450ml of milk together and pour over the layers. Top the layers with 10g of White Stilton with Apricots and bake in the oven for 30-40 minutes at 180 degrees.
White Stilton and Apricot is available at Tesco and M&S and at selected Sainsburys and Tesco stores that feature a cheese counter.