Happy New Year!
No we're not a few weeks behind everyone else… Tomorrow, 28th January, marks the Chinese New Year which this year, is the year of the Rooster.
The Chinese celebrate their New Year's Eve with a dinner called "reunion dinner". It is believed to be the most important meal of the year. Big families of several generations sit around round tables and enjoy the food and time together.
So to join in with the celebrations, we thought we would share with you our three favourite Chicken and Stilton recipes which you can easily cook for your dinner, whether it is a reunion or not.
First up, a versatile dish that can be used as a starter or side –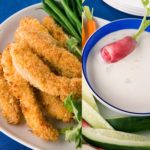 Breadcrumb chicken strips with blue cheese dip.
For the dip: Combine 100g of mayonnaise, 40g of sour cream, a crushed garlic clove and 85g of crumbled Blue Stilton. Season with salt and freshly cracked black pepper or tabasco sauce if desired.
For the chicken: Season chicken strips with salt and freshly cracked black pepper. Combine panko (or breadcrumbs) and cayenne in a bowl. Dip each chicken strip in egg whites then cover with the panko/breadcrumb mixture. Place the chicken strips on a baking sheet, sprat with non-stick cooking spray then bake on the top rack of the oven for about 20 minutes until the chicken is cooked through and golden brown. As an optional extra, serve with an assortment of radishes, cucumber spears and carrot sticks.
Second is a quick dish you can make in less than half an hour –
Stilton and sage chicken parcels.
Cut a slit in each chicken breast to create a pocket. In this pocket, place two sage leaves and about 25g of Stilton. Push the edges together, closing the cheese inside. Wrap two strips of pancetta around the chicken and secure with a cocktail stick. Cook for 10 minutes until the chicken is tender and golden. Serve with creamy mash potato and salad or rice and green beans.
And finally, a simple apple and Stilton salad.

For the dressing: Stir together 2 tbsp balsamic vinegar and 1 tsp honey then slowly whisk in 2 tbsp extra-virgin olive oil, adding salt & pepper to season if desired.
For the salad: Spread 1 cup of chopped walnuts on a baking sheet and toast in the oven until golden, ensuring to toss them a few times to cook evenly. Toast thinly-sliced raisin-walnut bread or similar to make croutons with. Combine 10 cups baby greens, 1/2cup currants, 1 thinly-sliced granny smith apple and the walnuts, then divide among four plates. Top with ½ cup crumbled Stilton, grilled chicken pieces and drizzle dressing over the top.
You can purchase our Blue Stilton online here, or you can pick it up at any major retailer in varying different sizes.