From the 19th to the 23rd September, staff at Long Clawson Dairy celebrated National Air Ambulance Week to raise money for our chosen charity; the Derbyshire, Leicestershire and Rutland Air Ambulance.
Throughout the week we sold Air Ambulance badges in the shape of a yellow cross, however we also ran different events on each day for staff to participate in.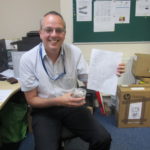 On Monday we had people guessing how many sweets were in a jar for 50p per guess. The guesses ranged from 16 sweets all the way up to 44 sweets, with most people wanting to guess in the range of 20-30. The winner of the jar of sweets was Systems Administrator, Steven Eyers, with his guess of 25 sweets.
Up next was Welly Wanging, everyone's favourite event from the Office Olympics. Unfortunately, Tuesday's weather was not on our side meaning that only one person showed up, our Health and Safety Manager, Catherine Parker. Instead, the time was spent selling Air Ambulance badges. A trophy was then given to Catherine, firstly for showing up and secondly for helping sell badges.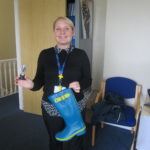 Wednesday's event was a short but difficult cheese-related quiz that cost 50p to enter. There was no winner from the quiz, as most of those who entered had managed to get the same number of questions right.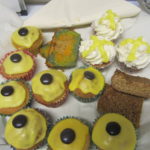 Because everyone loves a good cake sale, we held one on Thursday, selling cupcakes, flapjack and slices of cake for 50p each. This was a cake sale with a difference though, where we went up to people's desks to sell the cake in the hope of selling more by making the event a bit more personal. The cakes went down a treat with people coming back for more!
To end the week of fundraising we had a dress down Friday where staff paid a small donation to wear something more casual. We also sold more badges and left over cake on Friday before calculating the total amount raised over the week. Our final total raised over National Air Ambulance Week was an impressive £169.75!