New Products
Two new and exciting products have hit the shelves this shelves this month from the Clawson kitchen.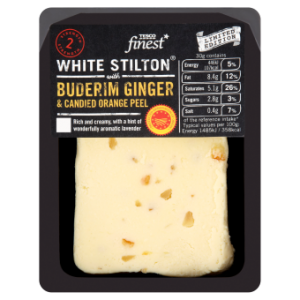 Our traditionally made white Stilton is studded
with crystalised buderim ginger, candied orange
peel and infused with a hint of lavender. Serve on
ginger biscuits with creme fraiche for a quick and
tasty dessert, and pair with a medium white wine
A seriously delicious savoury cheese, cheddar is
blended with tangy caramelised onion and seasoned
with wholegrain mustard. Perfect for a ploughmans
sandwich.
---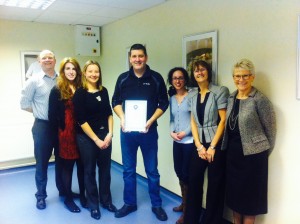 25 years at Long Clawson
Behind every great cheese is a great cheesemaker, and one of our greatest has just celebrated his 25 years working at Clawson. Rich, from our New Product Development department, joined the company in 1987 as a lab technician before becoming a cheesemaker and pasteuriser. He went on to become production supervisor, and in 2011 moved into his current role as a vat made cheese developer, working on improving and developing our Stiltons and blues. There is nothing this man doesn't know about blue cheese! Here's to 25 more…..
---
                                                         Clawson in the USA
Our Export Manager, Martin, has left the cold of Clawson behind and jetted off to San Francisco for the annual Winter Fancy Food Show. The event brings more than 40,000 attendees from more than 80 countries to see 260,000 innovative speciality food products. He will be representing Clawson and Somerdale at the event where Britsh cheeses and the stories behind them are growing increasingly popular
---
 We love our brand spanking new website
If you're reading this, it's likely you've had a look at our new website which landed in December and brought with it a range of brilliant features. Visitors can now buy exclusive products directly from our online shop, download and rate all of our delicious recipes, and find out everything they ever wanted to know about the Dairy. Complemented by photography so good it will make you want to lick your screen, we're very proud of it.